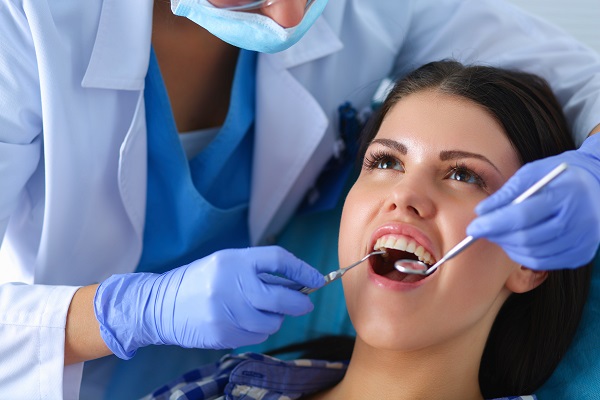 Learning how Dental Bridges replace teeth is important, as there are a few different types of teeth replacement options now available. It is important to replace missing teeth, as a full set of teeth supports a healthy mouth. Getting dental treatment in a timely manner is essential to prevent additional dental-related problems.
About Bridges
Considering dental bridges as one's tooth replacement option is something everyone should do when in need of tooth replacement services. A dental bridge is a versatile option, as this dental treatment is one that can replace one tooth or multiple missing teeth. There are three main types of bridges, traditional fixed bridges, cantilever bridges and Maryland bonded bridges. Implant-supported bridges are another option, which requires one to first go through the dental implant placement process.
Dental bridges not only replace missing teeth, they also prevent the remaining teeth from shifting, helps maintain the shape of one's face, helps prevent speech problems and reduces the chances of someone being diagnosed with jaw-related problems.
How bridges work to replace missing teeth
According to WebMD, a bridge is made up of two or more crowns for the teeth on either side of the gap — these two or more anchoring teeth are called abutment teeth — and a false tooth/teeth in between. It is important to understand that there needs to be existing teeth on each side of the missing tooth or teeth in order for bridges to work. When a dental professional replaces teeth using a dental bridge, they will first need to prepare the existing teeth for the bridge. An impression of the teeth is then made, which is sent to a lab to make the bridge.
Dental bridges can replace multiple teeth
It is important for those who are missing teeth to know how many teeth a dental bridge can replace. Bridges work by bridging the gap of missing teeth, which requires the bridge to be attached to the teeth located on each side. While some people will only need one tooth replaced, many others will need to replace multiple teeth. When it comes to how many teeth dental bridges can replace, they can replace up to seven teeth, as long as there are enough teeth for the bridge to connect to.
Many people who are missing teeth will choose to have a bridge replace their teeth, with most only needing to replace one, two or three missing teeth. In order for someone who is missing more than three teeth to find out if a dental bridge is the right tooth replacement option for them, they will need to schedule a consultation appointment for personalized treatment information.
In need of a dental bridge?
Are dental bridges the right choice for you? Whether you need one bridge or more, replacing teeth in a fast manner is an essential part of experiencing good oral health. Now that the above information has been read, it is understood how dental bridges work, allowing those who are in need of tooth replacement to understand more about the process required to have bridges placed in one's mouth.
Are you considering dental bridges in the Spokane area? Get more information at https://brookemcloningerdds.com.
Check out what others are saying about our dental services on Yelp: Dental Bridges in Spokane, WA.
---
Related Posts
April 5, 2022
A dental crowns is a critical device for both your oral health and the aesthetics of your smile. If you have damaged teeth or other cosmetic problems, a dentist may recommend a …