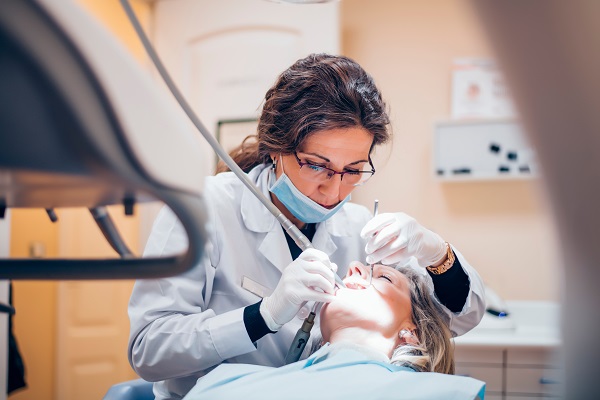 General dentistry includes a patient's primary dental care provider. A general dentist diagnoses and treats overall oral health care needs, including the care and health of the gums.
Procedures to encourage gum health
Most procedures to encourage gum health also encourage the general health of a patient's teeth. The following procedures should ultimately lead to healthier gums.
Oral examinations
During an oral examination, the dentist can spot plaque buildup, cavities, forms of oral cancer, and other abnormalities of the gums. To ensure healthy gums, an oral examination is necessary.
During an examination, dentists chart chipped, broken, decayed, and missing teeth and any previous restorations. Dentists also take gum measurements to check for gum disease. Along with a physical examination, general dentistry includes the use of X-rays to spot deeper problems.
Dental cleaning
During a dental cleaning, the dentist uses a scaler to remove plaque and tartar around the patient's gumline and between the teeth. While regular brushing and flossing help stop plaque from hardening into tartar, only a dentist can remove tartar through cleaning once it does harden. After using the scaler, the next step is to use gritty toothpaste on the patient's teeth. The grit scrubs and polishes the teeth, removing any tartar left behind.
Deep cleaning
Regular dental cleanings focus on the gum line and tooth's surface, whereas a deep cleaning removes colonies of bacteria and tartar from the teeth roots. For those with periodontal disease, gum and tooth cleaning has a critical role in keeping the disease from worsening. Those with gum disease tend to have weaker teeth and may be more susceptible to infections.
Without deep cleaning, patients could suffer from a bacterial infection in their gums. Dentists use a scaler to remove tartar beneath the gum line and an ultrasonic device to remove plaque from the surface of teeth.
In a deep cleaning, dentists also conduct root planing. Root planing removes rough spots on the root to prevent gum infections. Rough spots can trap bacteria. A deep cleaning encourages healthy, clean gums and helps the gums reattach to the teeth.
Root canal
A dental abscess is a painful condition that affects a patient's bite and sensitivity to hot and cold, and can also cause fever, a feeling of unwellness, swallowing difficulties, and insomnia. There are three types of dental abscesses to worry about:
Gingival abscess: Abscess of the gum tissue
Periodontal abscess: Abscess in the bone tissue and tooth structure
Periapical abscess: Abscess in the soft pulp
Abscesses occur due to bacterial infections caused by plaque, saliva, and food. The bacteria and the resulting infection can damage the gums.
To treat an abscess, dentists generally prescribe antibiotics and a root canal. Root canals clean the canals inside the tooth's root and remove the infected and damaged pulp.
Conclusion
General dentistry concerns itself with the health of a patient's gums as well as their teeth. To maintain and encourage gum health, dentists perform examinations, cleanings, and root canals to treat and prevent problems from arising.
Request an appointment here: https://brookemcloningerdds.com or call Brooke M. Cloninger, D.D.S. at (509) 319-2152 for an appointment in our Spokane office.
Check out what others are saying about our dental services on Yelp: General Dentistry Services in Spokane, WA.
---
Related Posts
June 8, 2022
A general dentist is responsible for providing routine oral care to patients of all ages. Routine oral care typically involves cleanings, examinations, fluoride application, and x-rays. X-rays are typically the easiest part …