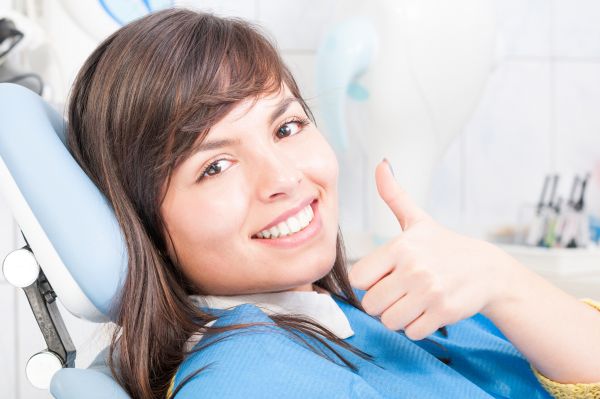 Looking for more information about what a dental cleaning entails? Regular dental cleanings are an essential part of maintaining good oral health.
While most people tend to make their regular dental appointments every year, there are some people who can visit the dentist less often and some who will need to visit more often, as everyone has their own special dental requirements. Because today's dentists understand how busy some people are, which can make it hard for them to make it to regular dental cleanings, many now offer convenient appointment times. All you need to do now is make an appointment and go.
What happens during a dental cleaning?
What exactly are dental cleanings, and what happens during one? A dental professional will first perform a physical exam of the mouth in order to detect any oral problems. They will then use special dental tools in order to remove any and all tartar and or plaque existing on the teeth. The patient's teeth will then be professionally polished, which makes the teeth feel nice and smooth as they are now very clean. A fluoride treatment is then applied to the teeth, which helps protect them from getting any cavities.
Reasons to remove plaque and tartar
The following is a list of reasons why it is important to remove plaque and tartar from the teeth.
It can destroy your teeth's enamel, leaving your teeth unprotected and vulnerable
It leads to tooth decay and cavities
It can lead to periodontitis or other forms of gum disease
It can cause more serious, general health issues, such as cardiovascular disease
According to the American Dental Association, brushing teeth twice a day will help keep plaque and tartar from forming, which keeps the mouth healthy.
Why some people avoid dental cleanings
Dentists completely understand that some people get nervous when going in for their regular dental cleanings, which is why it is important for all dental patients to inform their dental team about how they feel when having any necessary dental work performed. There are options available that can help calm patient's nerves, so those who are experiencing any type of dental anxiety should discuss how they feel with their dentist so they can understand what options are available to them.
In need of an appointment?
If you are currently in need of a dental cleaning appointment, we invite you to give us a call right now so we can get you scheduled in. The sooner you get your teeth professionally cleaned, the sooner you can be back on your path to good oral health.
If you do not get any plaque or tartar that is building up on your teeth removed, you will eventually get one or more cavities in one or more of your teeth. While cavity treatment is definitely available, cavities make teeth weaker, which is something you want to avoid as it can bring a host of more serious problems for your teeth. If you have a question about dental cleanings, speak to one of our dental health professionals today.
Request an appointment here: https://brookemcloningerdds.com or call Brooke M. Cloninger, D.D.S. at (509) 319-2152 for an appointment in our Spokane office.
Check out what others are saying about our dental services on Yelp: Dental Cleaning and Examinations.
---
Related Posts
September 5, 2023
Wondering just how beneficial a professional dental cleaning is? Routine dental cleanings help patients avoid dental-related problems by removing hardened plaque and calculus. Most patients need to undergo these cleanings twice a …