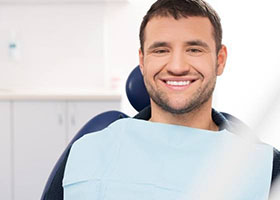 At Brooke M. Cloninger, D.D.S., we can perform dental work on patients that are struggling withdental anxiety. If you avoid the dentist due to fear of what a procedure may be like or simply do not enjoy dental work, give us a call. In our Spokane, dental office, we can ensure that you are comfortable and relaxed, regardless of the dental procedure. When you visit our office, we will meet with you to discuss what treatments you need and create a plan for how to keep your mouth healthy while easing any fears that you have about dentistry in general. We will keep you informed about the entire process so that you can make decisions regarding dental care without experiencing any anxiety.
How can I ease my fears about dental care without medication?
When you visit our dental office, we can discuss ways that you can prevent experiencing anxiety while receiving dental care. Give us a call to go over any and all methods for dealing with dental anxiety that we can offer. In some cases, all a patient needs to do is play music on headphones during the appointment. In other cases, we may need medication or another method to deal with dental anxiety.
How can I prepare for my dentist appointment?
Another easy way to calm your fears is to visit our Spokane dental office and meet with The Team prior to the actual appointment. Taking the time to tour our office, where you can sit in the dentist chair and have a conversation, will allow you to become familiar with our staff and office environment. After this meeting, when you do have your teeth cleaned, you are doing so in an atmosphere that you feel comfortable in with friendly and familiar faces. During your consultation, we can also discuss what you can expect from a teeth cleaning or a specific procedure. This will help you to mentally prepare for how long it will take, what dental tools we will use, what you may feel during the process and what the recovery period will be, if any. At Brooke M. Cloninger, D.D.S., we find that the more informed our patients are the more comfortable and relaxed they feel. This one appointment can help to alleviate the fear of dentists that you are experiencing.
Helpful Related Links
About our business, license, and website security
Brooke M. Cloninger, D.D.S. was established in 2005
We accept the following payment methods: American Express, Cash, Check, Discover, MasterCard, and Visa
We serve patients from the following counties: Spokane County
We serve patients from the following cities: Spokane, Spokane Valley, Cheney, Veradale, Airway Heights, Liberty Lake, Mead, Colbert


Website Safety Ratings and Reputation – AVG Threat Labs. View Details
Norton Safe Web. View Details
Trend Micro Site Safety Center. View Details
Back to top of Dental Anxiety