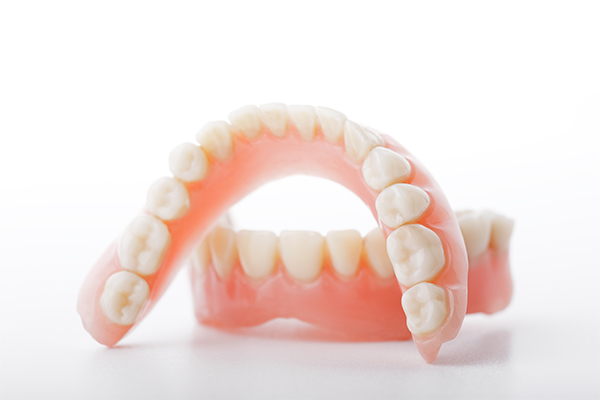 Dentures go through a lot of wear and tear. Unlike natural teeth made from strong enamel, denture teeth are not as strong and are prone to breaking or chipping. From eating hard foods or dropping your dentures in the sink or on the floor, there are many ways a tooth can break off. When that happens, there are things you should do to make sure your dentures get repaired as soon as possible.
Broken or chipped dentures
For denture wearers, a chipped or broken tooth is a serious matter and requires prompt repair. When denture teeth break, it can have a lasting impact on the denture wearer's ability to chew and speak. The bite of the dentures will also become compromised and may cause discomfort. When it comes to repairing chipped or broken denture teeth, denture wearers should not try to repair them on their own. Instead, the first steps one should do after breaking or cracking a tooth include the following:
Gather broken pieces, including wiring and pieces of the chipped or broken tooth
Wearers should use dental wax if clasps or wiring becomes uncomfortable or loose. This prevents irritation along the gums because the wax acts as a temporary barrier
Remove dentures and soak them in a soaking solution or storage case until they are taken to the dentist. Wearers should not wear damaged dentures
Contact a dentist
Repair kits
In some cases, wearers may be able to temporarily fix a damaged denture tooth with an over-the-counter repair kit. However, repair kits only offer a temporary fix, so broken dentures will still have to be delivered to a dentist or prosthodontist for proper repair. Dentures treated with an over-the-counter repair kit may also make it difficult for dentists or prosthodontists to repair any damage. Before repairing a tooth that has been temporarily fixed with a repair kit, dentists or prosthodontists will have to remove any temporary adhesive the wearer applied.
Wearers should also remember that repairing cracked dentures on their own may result in the need for a full denture replacement. Over-the-counter repair kits are only a good idea if a cracked or broken tooth can be fitted back in place exactly like it was before it broke. If wearers make a mistake while fixing a broken tooth with a repair kit, a dentist or prosthodontist may not be able to properly fix the tooth. As a result, wearers will either have to pay for a new pair of dentures or deal with the bite being off in the damaged dentures.
Denture replacement
In most cases, chipped or broken denture teeth can be repaired without a problem. Typically, a dentist or prosthodontist will remove the damaged tooth and replace it with a new tooth after taking the proper measurements and matching the color to the rest of the denture teeth. From there, the new tooth is attached to the denture. However, if the damage is extensive, wearers may have to get an entirely new pair of dentures. This decision is usually made during a consultation with a dentist or prosthodontist.
Do not panic when a denture tooth breaks
When you break a denture tooth, the first step to repairing it is not to panic. There are temporary ways to repair your dentures. Your dentist can also offer a more permanent solution. If you recently damaged a denture tooth, contact a dentist today.
Request an appointment here: https://brookemcloningerdds.com or call Brooke M. Cloninger, D.D.S. at (509) 319-2152 for an appointment in our Spokane office.
Check out what others are saying about our services on Yelp: Read our Yelp reviews.
---
Related Posts
August 2, 2022
Dental sealants are an effective preventive treatment against tooth decay that are commonly associated with children and young adults. But what about adults? Continue reading to learn about dental sealants for adults …