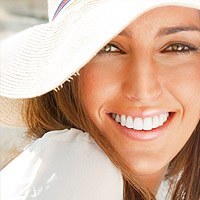 At Brooke M. Cloninger, D.D.S., we offer cosmetic dental services in Spokane. Patients can benefit from having a single procedure or having a full smile makeover. We understand that a persons' smile can transform their entire appearance, restore self-confidence, and make it easier to speak clearly. Whether your goal is to improve your appearance or to improve the functionality of your teeth – we can help.
If you live in Spokane, WA, we invite you to call (509) 319-2152 and schedule a consultation to speak with The Team. During your appointment, we will examine your teeth and discuss the goals that you have for your smile. Since there are so many types of procedures to choose from, it is important to understand what you are trying to accomplish so that we can customize a recommendation that fits your lifestyle and timeframe goals.
Before we schedule any cosmetic dental services, we will want to ensure that your teeth and gums are in good health. It is essential that they are. Otherwise, you will take longer to heal, and your teeth will continue to deteriorate over time. Starting with healthy teeth, or restoring damaged ones during the process, is important for keeping your new smile looking fabulous for years to come.
Simultaneously, your gums need to be in good health before completing any major cosmetic work. Many people are unaware of how important the connection between the gums and teeth are. If your gums are receding or you have some level of gum disease, it will continue to advance and put your teeth at risk for further infection and even bone loss. Any level of gum disease can jeopardize any cosmetic work that we complete. Thus, if gum disease is present, we will treat it first.
Once you are ready for a cosmetic procedure, we will have you come in for your scheduled appointment time. We typically recommend starting with a teeth whitening procedure. This can be important because any restoration or cosmetic work you choose can involve creating a crown or veneer. Whether restoring a damaged tooth or replacing it, we typically create a new tooth using resin, ceramic, or porcelain. These materials are all similar in nature and are stain resistant. If we transform your smile with veneers, for example, they will not stain like natural teeth. The challenge is that they do not whiten like natural teeth either. That means that before you have cosmetic work, you will want to ensure that your natural teeth are the shade that you like. If you have all of your teeth corrected, then this is not an issue. If, however, you are only focusing on one or two teeth, they will be made to match your surrounding teeth. If you do not like their color, the newly-restored tooth will also be a shade that you do not like.
Our team will then go to work on transforming your smile from ordinary to stunning. Whether we are closing gaps between teeth, changing their overall shape or size, covering dark stains, straightening teeth, or restoring teeth, our cosmetic dental services can give you the smile you have always wanted. For more information or to speak with The Team call 509-319-2152.
Helpful Related Links
About our business, license, and website security
Brooke M. Cloninger, D.D.S. was established in 2005
We accept the following payment methods: American Express, Cash, Check, Discover, MasterCard, and Visa
We serve patients from the following counties: Spokane County
We serve patients from the following cities: Spokane, Spokane Valley, Cheney, Veradale, Airway Heights, Liberty Lake, Mead, Colbert


Website Safety Ratings and Reputation – AVG Threat Labs. View Details
Norton Safe Web. View Details
Trend Micro Site Safety Center. View Details
Back to top of Cosmetic Dental Services