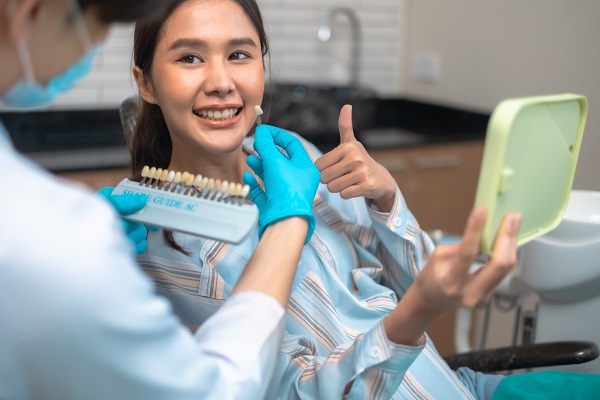 Wondering just how beneficial a professional dental cleaning is? Routine dental cleanings help patients avoid dental-related problems by removing hardened plaque and calculus. Most patients need to undergo these cleanings twice a year.
About dental cleanings
Preventive dentistry aims to keep a patient's mouth healthy so they do not have to undergo dental treatments to experience a healthy mouth. Patients who follow the preventive dentistry information in their treatment plan are less likely to experience dental-related problems, like cavities.
Dental cleanings can prevent several oral issues
Here are four things that routine dental cleanings can help prevent.
#1. Cavities
Routine dental cleanings help prevent dental patients from being diagnosed with cavities. The process of cleaning one's teeth during these important appointments involves a dental professional carefully removing any plaque or tartar buildup on the patient's teeth. Plaque and tartar contain harmful bacteria, which means that, when removed from the teeth, the patient no longer has a buildup of bacteria that can lead to the formation of cavities.
#2. Gum disease
According to the American Dental Association, there may be a link between gum disease and other health concerns, such as cardiovascular problems, stroke, bacterial pneumonia, and increased risk during pregnancy. This makes it necessary for dental patients to avoid getting gum disease not only because it negatively affects their dental health but also because it can negatively affect their overall general health. There are four stages of gum disease, with the higher stages being more difficult to treat.
#3. Bad breath
While there are many reasons that someone may have bad breath, plaque or tartar buildup on one's teeth is a typical cause of bad breath. This is due to the harmful bacteria contained within plaque or tartar smells and negatively affect one's overall oral health. In addition, dental patients who experience persistent or severe bad breath often have a buildup of plaque or tartar on their teeth, so removing this buildup will help address their bad breath problem.
#4. Tooth loss
Undergoing routine dental cleanings can help prevent patients from experiencing a loss of one or more of their teeth. However, when a buildup of plaque or tartar goes untreated for a long period of time, the acids in the plaque or tartar will start eroding the teeth' enamel. As a result, patients who do not undergo dental cleanings as directed in their treatment plan may eventually experience tooth loss. Since the mouth remains healthiest with a full set of teeth, patients who lose teeth must choose tooth replacement options to prevent further oral health complications.
Bottom line
Are you in need of a professional routine dental cleaning? Preventive dentistry is a type of dentistry that focuses on preventing patients from getting any dental-related problems. This makes undergoing routine dental cleanings important to one's good oral health.
Request an appointment here: https://brookemcloningerdds.com or call Brooke M. Cloninger, D.D.S. at (509) 319-2152 for an appointment in our Spokane office.
Check out what others are saying about our dental services on Yelp: Dental Cleaning and Examinations in Spokane, WA.
---
Related Posts
April 8, 2021
Done regularly, dental cleanings contributes to a person's long-term oral health. Professional teeth cleaning removes plaque buildup, targeting hard-to-reach spots that you may miss when you brush and floss.Usually, professional dental cleaning …